Work-study Track – a veritable springboard for employment

                        
Excelia firmly believes in the value of carrying out your studies on a work-study track and has been a pioneer in this field since 1997 when it first offered its Master in Management programme via an apprenticeship contract. As a result, today Excelia has proven pedagogical expertise in terms of the work-study approach, with a strong network of partner companies. At the start of the 2021 academic year more than 1000 students chose a work-study track. Subsequently, in 2020 we launched the EXCELIA Apprenticeship Training Centre, with a view to offering apprenticeship opportunities across all our programmes, further demonstrating our commitment and desire to develop the professional skills of our students.
Choosing to carry out your studies on a work-study track is the perfect way to develop your professional skills, as you will be working in a company for a period of 12 to 24 months. It can be carried out on a private sector apprenticeship contract, a public sector apprenticeship contract or a professional training contract. 
Working at a suitably adapted pace will enable you to put the theory learned in lessons into practice, as you develop a range of skills and competencies by working closely with the business professionals who are there to support and guide you.
These periods of immersion in a company are an invaluable asset in terms of your professional development and will undoubtedly boost your CV, thereby enhancing your employability.
Facts & figures
94 % graduation rate
20 % of Excelia students choose a programme offering a work-study track
85 % of students choosing a work-study track find a job within 6 months of graduation
Locations in France where students carry out their company-based experience: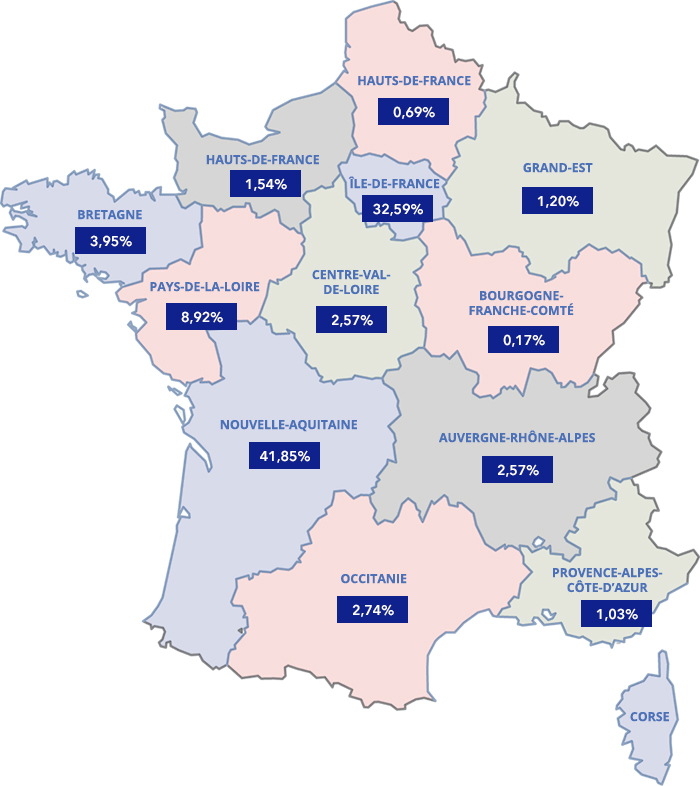 Study programmes
Our programmes offered on a work-study track are subject to specific admissions requirements and conditions. To maximise your chances of being accepted on a work-study track, here is some useful information and helpful advice:
- Personal interview: Candidates are strongly advised to submit a CV and a cover letter. How you perform on the day of the interview and the quality of these documents, even if optional, are all part of the assessment.  
- Grant holders: as part of its commitment to social inclusion, when it comes to work-study, Excelia gives preferential consideration to applicants with grants.
In 2019, more than 600 work-study contracts were signed across the Bachelor, MSc and Master programmes (undergraduate and postgraduate) in the following sectors of activity:
Management

Communications / Digital

Tourism Management

Real Estate
Many advantages for the student...
secure an professional training contract (contrat de professionnalisation) more easily thanks to your company-based professional experience
earn money whilst studying for a qualification
benefit from the opportunity of putting theory into practice
progressively develop your professional project
start to develop your professional network
benefit from the company paying the cost of your studies
...And as well as for the employer
train a future employee for the specific needs of your company
benefit from financial incentives
benefit from the partial or total financing of the cost of the training through an OPCO (OPérateur de COmpétences) organisation
convey your knowledge and expertise through the various projects entrusted to the student
benefit from the positive effects on your current teams of an enthusiastic and motivated student
recruit versatile profiles, which are a real asset for diversity
Assistance from our dedicated teams
From identifying the needs of both the company and the student to the drafting of the contract, Excelia has dedicated "work-study" teams who are on hand to support you throughout your project. They help with the following:
They help with the following:
exploring the different possibilities with our partner companies... from identifying to validating opportunities for work-study
assisting and coaching candidates: e-learning track, motivation interviews, etc.
informing potential candidates of work-study opportunities
organising recruitment events: Job dating, Forum
providing information about work-study: 'how it works' in practice and applicable programmes
drafting work-study contracts
This close working relationship extends throughout the duration of the contract through a mentoring system whereby a dedicated point of contact will monitor the progress of the student on the work-study contract. Their role is vital as they ensure the coherence between the practical experience and the theory being taught.
Contact
Please contact us if you have any questions or require further information:
Apprenticeship Training Centre –  WORK-STUDY Department 
+33 (0)5 16 59 05 20
alternance@excelia-group.com