Excelia… a truly cosmopolitan School attracting more and more international students every year!
The multicultural environment at Excelia offers students the opportunity to live and work alongside people from diverse cultures, enabling them to develop different perspectives of the world.
A campus open to the world
Joining Excelia is the assurance of a high level of education. It also means benefitting from the best possible welcome and study conditions. This is why each year Excelia attracts more and more students from all over the world. With its students, research-active Faculty and occasional lecturers of more than 80 nationalities, Excelia is a truly cosmopolitan school. Every student experiences the multicultural environment on a daily basis, helping them to open up to new horizons.
Across its three campuses, Excelia has nearly 5,500 students of which more than 25% are international, representing some 80 nationalities.
Furthermore, 55% of its teaching body is made up of international research-active Faculty members and occasional lecturers and, each year, Visiting Professors from international partner universities come to teach on Excelia's programmes.
The contribution of this international culture and experience is a real added value for all those who make up the Excelian 'community', and also helps for a better understanding of the global context of the business world. This international dimension also offers the possibility of developing professional skills adapted to the challenges and needs of international companies.
January start dates for international students
Many international students do not necessarily have the same academic year as us. It can therefore not only be difficult for them to find a programme but to be available for a September start. The administrative procedures for studying in France can also be a complicated causing students to miss the start of the new academic year in September. This is why Excelia now offers two start dates per year giving everyone the chance to join an excellent programme! 
Another good reason to choose Excelia!
There is no need to worry about being out of sync with your classmates who started in September as our tailor-made fast-track programmes are adapted to each student's circumstances and objectives. Excelia's Faculty and personnel also do their utmost to offer personalised support to students who wish to start their studies in January.
Excelia is renowned for its support and guidance, and its pedagogy, so students will be able to resume, or continue their studies, with complete peace of mind.
Programmes designed for international students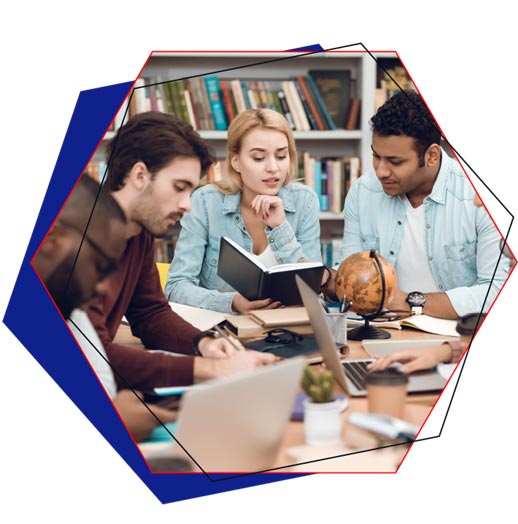 Whilst most of Excelia's programmes are available on an English Track, there are also study courses specifically aimed at international students. Excelia Academy offers these programmes, often of short duration, to international students who wish to acquire the fundamentals of Management and the necessary language skills to join Bachelor- or Master-level programmes in France.
Business Foundation Programme
This programme is primarily aimed at international students who are looking to carry out management studies at a higher education establishment in France. This programme, in 6 months or one year, online or face-to-face, enables students to acquire the fundamentals of management while developing the linguistic and technical skills necessary to apply for Excelia's undergraduate or postgraduate programmes. Whichever Excelia programme subsequently chosen, students will be joining a major French Business School, obtaining an internationally recognised qualification.
Find out more about the Business Foundation Programme
Bachelor First Year
This programme offers students the opportunity to explore disciplines as varied as Management, Communications, Tourism, Digital Technologies, and Modern Languages, whilst at the same time tackling major societal issues such as environmental protection, the digital transformation and the circular economy. The programme is available in two formats: a Classic Track in French in La Rochelle or an English Fast-Track in Paris.
At the end of the programme, students can choose to join Year 2 of one of Excelia's five Bachelor programmes.
Find out more about the Bachelor First Year
Summer & Winter School
The Summer & Winter School courses include cultural excursions and company visits, offering students the opportunity to discover different business models and meet entrepreneurs. These varied specialisations, in Business, Management or French Language and Culture, last 2 - 4 weeks, and the Fashion, Design and Luxury Industry Management course even includes a 2-day trip to Paris!
Excelia has designed these short study courses especially for international students, enabling them to develop an international outlook and acquire the necessary skills and competencies in order to gain an understanding of business and management. All these short study courses are taught entirely in English.
Find out more about the Summer & Winter School
French as a Foreign Language
The French as a Foreign Language courses are aimed at international students who wish to improve their French. They are provided by the French Language Institute (IEF), which offers different courses lasting from 2 weeks to 3 terms, in group or one-to-one lessons, for private individuals, students, and business professionals.
Find out more about the French Language Institute
Online @ccess French as a Foreign Language course
Aimed at international students who are unable to attend face-to-face classes but who nevertheless wish to improve their language skills even before arriving in France. The course takes place remotely via our learning platform.
Find out more about the online @ccess French as a Foreign Language course