Excelia's faculty is both diverse and of a very high calibre. They constantly strive for academic excellence and contribute to enriching the savoir-faire of our students.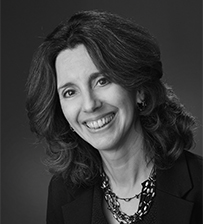 Valérie Fernandes
Associate Dean Faculty and academic development
The Faculty is made up of…
102 permanent teachers, 74 of whom are in the field of Management
89% of those specialising in Management hold a PhD (Doctorate)
55% of those specialising in Management are international or have dual nationality
The Faculty is spread over our three campuses, La Rochelle, Tours and Orleans, and is firmly committed to Excelia's mission:
to train students to become responsible professionals
to ensure sustainable employment
to contribute to the transformation of organisations and to the dynamics of its local regions
To achieve this, we regularly re-evaluate our pedagogical model. Therefore, the very essence of our profession as teachers, research-active faculty and educators is founded, first and foremost, on the creation of meaning and on the forging of links with both the student community and academic community, serving our local regions and working at an international level.
This requires taking into account the changing world, as it inevitably has an impact on both teaching content and learning methods, through…
incorporating the impacts of climate change into our curricula
new learning methods to prepare learners for new organisational approaches and future professions (artificial intelligence, Big Data, nomadism, etc.), through skills-based teaching 
strengthening of cultural awareness to help our learners find their place in a complex world.
Our Faculty is fully committed to all these objectives. Last but not least, educational innovation, in all its forms, is supported and nurtured by Excelia Lab. Research is also considered as key to pedagogical content. Furthermore, a skills development plan has been available to all Faculty since 2018.


Amir Hasnaoui
​Finance Department Director


Jean-Pierre Dumazert
​HR & Management Department Director 


Donatienne Delorme
Strategy Department Director


Irina Sussin
Languages & Cultures Department Director


João Garcia
Digital Expert Department Director