For many, it was probably just a dream but Excelia has now made it reality! Nine months of joint development, more than 30 people involved, and here it is… Excelia's perfect new baby! Both physical and digital, the XL Factory is a tangible expression of the phygital transformation.
The XL Factory
On Wednesday 16th November 2022, the XL Factory was inaugurated! Right in the heart of the La Rochelle campus, it boasts 110 m2 of space entirely dedicated to pedagogical innovation and collective intelligence, divided into 4 distinct yet interconnected spaces:
THINK: a room fully equipped with collaborative technology… modular seating on wheels and incorporating writing tablets, a digital flip chart with virtual post-its, and a touch-sensitive interactive projector for unbridled creative sessions! This space can be combined with EXPLORE, which is located just next door.
EXPLORE: for immersive learning experiences that would be impossible to achieve on campus or even during an internship! 'Red Alert!', a metaverse designed for decision-making, with pedagogical objectives developed by Kevin Grande (a research-active faculty member in tourism), is already generating much interest from our students. Another metaverse, this time devoted to public speaking, is assisted by artificial intelligence which generates a report on improving public speaking skills as well as body language.
CREATE: a mini recording studio, a type of video booth, with a projector, a green screen and a white screen. Everything you need to start creating a microlearning lesson in under 5 minutes, to simulate a TV set or even to produce a video for internal or external communication purposes.
LAB: this is the place where the innovative pedagogical methods discussed in THINK will be tried out and prototyped using Editing, Motion Design as well as a 2-metre interactive screen to simulate the hybrid teaching rooms of the future!
The XL Factory also has a digital twin, a 3D universe referred to as 'persistent', meaning it is infinite, permanent, unstoppable. Users from Excelia's other campuses can visit this metaverse in avatar mode, with the feeling of being teleported to La Rochelle right from the moment they put on their virtual reality headset!
Understanding the concept of a virtual world
Creating an improved teaching experience via the Metaverse  
During the inauguration, we asked Gonzalo Garzo Fernandez, Director of Programmes at Excelia Digital School how the XL Factory will transform the way teachers teach:  
"At Excelia Digital School, the experiential aspect is a major focus for all our programmes, with students benefitting from practical activities such as internships right from Year 1, Learning Expeditions and Workshops. The XL Factory will be a unique experience for our students, helping them understand the tools they will have to use in the business world of tomorrow.


The Digital School's courses and programmes are directly linked to the XL Factory. For example, we will use the CREATE space's recording studio, with its green screen, to organise media training with our students, the LAB space for video editing and 3D modelling, and the THINK space's interactive boards to encourage collective intelligence."
 
View programmes offered by the Digital School 
The Metaverse at Excelia 
We asked Anthony Hié, Chief Digital Officer at Excelia and head of the XL Factory project, a few questions: 
Why did Excelia decide to create this unique facility?


"The aim is to anticipate the education of the future by complementing classroom-based lessons with immersive learning experiences.
Through its 4 distinct work spaces, the XL Factory will help students to identify and fully understand what the digital transformation is all about, and will prepare them for the tools they are likely to find in the corporate world of the future."


What means have been put in place to ensure the success of this project? 


"To create this facility, some 30 people were involved in workshops on Design Thinking and on competitor monitoring, in order to distinguish our institution and offer something completely unique in the world of Business Schools.
However, the success of this project is not just about the XL Factory facility itself. We are embarking on a strategy of facilitating change, and this is the purpose of the inauguration... to showcase the different spaces and what our employees and students will be able to do there, allowing everyone to experiment and create their own XL Factory."


Some students have already been able to try out the Red Alert!* virtual reality exercise… what were their first impressions? 


"Indeed, this very first group of students were very excited and very positive about this exercise, because they were actively involved in their own education, living a totally unique experience. For them, it is a complementary tool for learning and retaining new concepts, offering a very different approach from traditional pedagogical methods."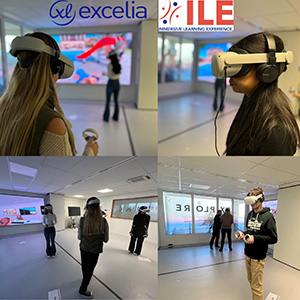 *The RedAlert! virtual reality exercise puts students in the shoes of a School Director facing a crisis situation: a drowning. Students are able to make choices and interact with different people or objects via their virtual reality headset to better understand the different emergency procedures to adopt.
As you can clearly see, Excelia wishes to be among the leaders of the Metaverse for educational purposes, in France, for the years to come, and is giving itself all the necessary means to ensure success! 
The Inauguration in pictures
Metaverse : The inauguration of the XL Factory
Further readings: 
Excelia reinvents the educational experience with the Metaverse
Why the place of humans in the Excelia Metaverse is crucial!