« By the end of my time there, I had learned so much and had grown both personally and professionally. »
Bachelor in Tourism & Hospitality Management
Hortense, second-year student Bachelor in Tourism & Hospitality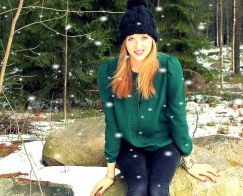 As part of the Erasmus+ programme, I was lucky enough to discover a country which was totally different from France… Finland. There, the sun sets at 3pm in winter and midnight in summer, temperatures can drop to -40°C in the winter… a winter that lasts five to six months. Then, there are the reindeers, the sled dogs, the northern lights, snow for as far as the eye can see, saunas and lakes… frozen over in winter and so refreshing in summer.
All these images I had of this country really made me want to head to northern Europe. So, I chose the small town of Porvoo, located east of Helsinki. In Finland, I discovered an education system that is not only very different to ours but is incredibly high-performing. When I saw the comfort and modernity of the local university, a partner university of Excelia, I immediately felt at home. Everything has been designed so that students can study in the best possible working conditions. Courses are very innovative.
There are no exams… assessment is based on a student's ability to undertake real projects. During the semester I validated in Finland, I took event management courses and had the opportunity to organise a wedding fair, the Miss Porvoo contest and an international tourism conference (ITSC). By the end of my time there, I had learned so much and had grown both personally and professionally.