Excelia is now issuing digital qualification certificates for all its programmes using Blockchain and, at the same time, furthering its commitment to the ecological transition.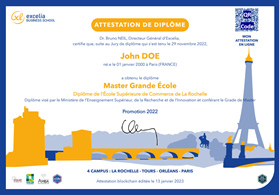 Since the beginning of January, Excelia has been using Blockchain for its qualification certificates. By using this technology, the school is able to issue certificates that are 100% digital and forgery-proof. This initiative is part of Excelia's digital transformation plan, XL Vision. It meets a growing demand for the authentication of qualification certificates, and Excelia is one of the first French business schools to adopt this technology.
Digitally-authenticated qualification certificates 
Since the beginning of the year, Excelia has been using Blockchain to validate the qualification certificates issued by the group. Anthony Hié, Director of Digital Transformation at Excelia, describes the process:
"Qualification data is digitised and made available securely and in real time, online, with proof of registration in the Blockchain".
Each qualification certificate is therefore accompanied by a QR code that is linked to a unique URL. This makes it easier for recruiters to check the authenticity of qualifications, using a mobile phone or an Internet link. The certificate can also be viewed on, for example, social media or via a digital workplace.
The choice of Blockchain 2.0 technology is in line with Excelia's commitment to sustainable development
If a comparison is made between the carbon footprint of a qualification certificate issued in paper format and a Blockchain digital certificate, the second option is unquestionably more environmentally friendly: a Blockchain digital certificate generates 0.2854 g of CO₂ compared to 10.22 g for a traditional paper certificate. To enable Excelia to achieve this objective, which is in line with its commitment to sustainability, it has chosen the Blockchain 'Ethereum 2.0', which is more respectful of the environment. Less energy consuming, its block security protocols are not only based on proof of work but on proof of stake (PoS), thereby requiring less computing power and less sophisticated computer equipment. 
A project within the framework of the XL Vision digital transformation plan
Providing secure qualification certificates using Blockchain is one of the 38 projects that make up XL Vision, Excelia's extensive digital transformation plan. It is part of the group's strategy of innovation and digitalisation of processes and provides benefits for all stakeholders:
a quick and innovative way for graduates to provide proof of their achievements
a reduction in workload for the school's teams linked to the issuing of qualification certificates and proving authenticity 
the strengthening of Excelia's positive image among its partners.
This project was implemented in partnership with the company BC Diploma.