" I really like the international dimension of the School, every day you meet new people from all walks of life. "
Bachelor in Tourism and Hospitality Management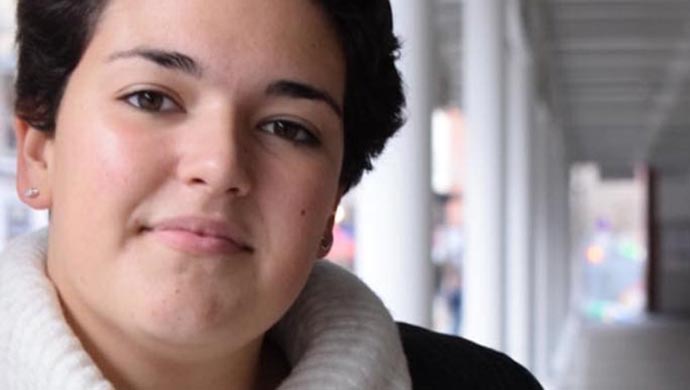 Hello! My name is Cécile, I'm 19 years old and I come from Toulouse.

Choosing Excelia
I found out about the School at a student fair: an ambassador presented the School to me and invited me to do the 48h chrono (immersion days that I really recommend you to do as well!).
The 48h chrono allowed me to talk with students in order to be sure of my choice of studies. Both in the School and in the city itself, people are very welcoming and happy to help us.
In a big School like Excelia you might think it's quite easy to feel lonely, but it's not. Being part of an Association and being in an international class really helped me to integrate. It's true that I didn't expect to find such a sense of belonging, but at Excelia we are not just an individual on a campus, we are part of the Excelia.
Many things convinced me that this was the right School, one of them being that I have always wanted to learn sign language. This is possible because you have the option of a third language. And, of course, the School is in La Rochelle…!

International dimension of Excelia
I really like the international dimension of the School, every day you meet new people from all walks of life.
My first course was Customer Service Skills, and we had two teachers for this subject, one of whom was Chief Steward for Air France. This course was very dynamic, with lots of real-life examples of situations that this teacher, who is after all an industry professional, had faced in his career.
The teachers ask us to do a lot of oral presentations and as I am on a 100% English track, my presentations have to be in English. I still have a lot of trouble speaking in English, but as these presentations are very often in groups it is much easier to have help with pronunciation and vocabulary; so it is getting easier and easier for me to speak in English, both in class for the presentations and with my international classmates.

Outside of Excelia
When I'm not at school, I like to go to the city with my friends or just enjoy a drink on the port. As students, we also have access to many sports thanks to the SUAPSE (Le Service Universitaire des Activités Physiques et d'Expression).
La Rochelle is a medium-sized city with a lot of students, so it's a lively city, where there's always something to see or do.
When I have completed my studies at Excelia, I would like to go abroad to set up my own tourism events company, but as I still have two and a half years left, my project will no doubt continue to evolve. In 10 years' time, I will certainly remember Excelia as one big family which greatly helped me both professionally and personally.
Thank you for reading my testimonial.
See you soon at Excelia.