Tech4Women : The digital technology industry is booming and actively recruiting! However, in France in 2022, women only represent 27% of those employed in digital professions (Product Manager, Digital Project Manager, Social Media Manager, etc.) and a mere 15% in tech professions (Software Development Manager, Data Science Specialist, etc.).
Tech4Women : Leveraging 'Tech' to reduce gender inequalities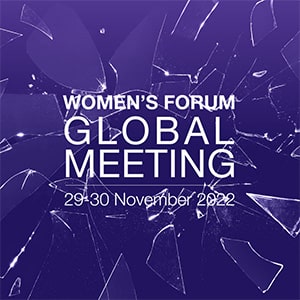 The Tech4Women challenge was launched at the Women's Forum 2022 based on a simple observation: Tech can provide effective solutions to improve women's rights and promote gender equality. From 26th September to 30th  November 2022, various stakeholders from the world of Tech and Digital were invited to participate in this drive to tackle gender inequality.

French and international students, whether studying at a business school, an engineering school or other, were invited to join this challenge aimed at redefining the 'norms' relating to gender. So, as part of their Innovation Marketing and Value Co-creation course, our BBA Year 4 students on a work-study track, guided by their teacher Poonam Oberoi, formed a team of 5 (Cody Bush, Alice Jaglin, Clementine Grolleau, Juliette Levy and Anouk Thévanin) and developed a project that really captured the judges' attention!

Our team of students were the only French students selected to present their pitch at the international final which took place in Paris on 29th and 30th November 2022 at the Women's Forum for the Economy & Society.
Four areas of focus
The various student teams worked to devise a breakthrough solution to tackle gender inequality in one of the 4 main fields addressed by the Women's Forum:
Despite being disproportionately impacted by climate change, women are under-represented in all climate-related policies and decision-making bodies preventing them from sharing their vision and conveying their needs.

The teams choosing this area of focus developed technological solutions to improve women's resilience to climate-related issues in certain regions, working on aspects such as agriculture and water supply, and to promote women's inclusion in decision-making bodies both at local and international level.
Gender inequalities are widespread within the medical workforce as, although women represent 70% of the health and social care workers across the globe, 75% of management roles are held by men (WHO, 2019 and 2022).

Technological solutions were developed by the teams to address the specific health needs of women, including those related to sexual and reproductive health, as well as to reduce disparities in the medical workforce by identifying and removing gender bias.
Research has demonstrated that women-managed and women-owned businesses are characterised by a strong long-term focus, with positive environmental and social goals, rather than short-term profit (McElhaney et al., 2012). Therefore, supporting women entrepreneurship is essential.

During this challenge, proposals were put forward to remove barriers to women entrepreneurs directly linked to gender bias and to support women in creating and developing their businesses.
STEM (Science, Technology, Engineering, Mathematics) skills account for 70% of the rapidly growing skills that are transforming the labour market. However, women are systematically under-represented in these fields… from educational programmes to careers.

The teams that chose this particular area of focus were therefore challenged to develop technological solutions to reduce gender inequalities in STEM fields, for instance helping women to discover STEM study programmes and STEM jobs or providing women with STEM skills to adapt to the evolving needs of the labour market.
 
An outstanding performance by  Excelia students!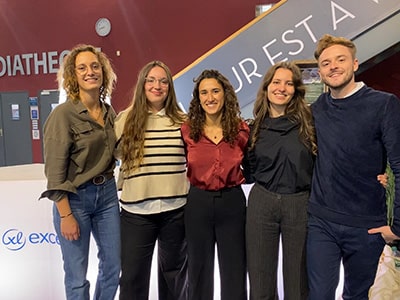 During the final of the Tech4Women challenge in Paris, our team of BBA Year 4 students had the opportunity to tackle the area of 'health', presenting an innovative pitch that earned them 3rd place on the podium! Our congratulations go to them and to their teacher Poonam Oberoi who guided and encouraged them in this project.

Encouraging our students to participate in this type of challenge is in keeping with our commitment to pedagogical innovation, which exposes Excelia students to societal values that are pertinent in today's world and provides them with an opportunity to put into practice the concepts they study in class.  
 
Excelia's commitment to diversity
Social Responsibility... these two words are of great importance at Excelia. The Diversity strand of our Corporate Social Responsibility (CSR) policy addresses sensitive issues that are essential for living together in harmony: inclusion, prevention and the fight against discrimination, gender equality, and equal opportunities.