A visit to the Senate… a fascinating experience for our Paris-based BBA International students
Organised and accompanied by an impressive Excelia support team (Tamym Abdessemed, Director of Strategy, Paris Campus and Business School, Stéphane Pradeau, Director of Institutional Relations, Sarah Barrère, Paris Campus Manager, Myriam Benabid, Director of the BBA International and Etienne Jarry, Head of Studies for the BBA International), 28 students from the BBA International programme visited the French Senate, where they were welcomed with great pomp and ceremony!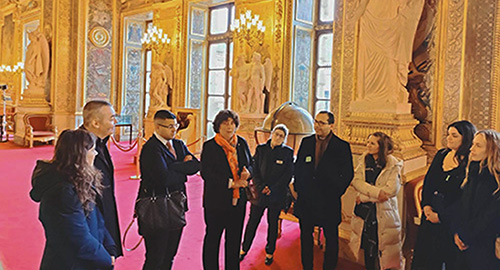 A visit to the Senate
… an iconic monument of French heritage
Excelia Business School's BBA International is one of the first programmes to be launched on our Paris campus as part of our regional development strategy. This international Bachelor in Business Administration is triple accredited and is regularly featured in the national and international rankings. Available on both the Paris and La Rochelle campuses, the programme offers a comprehensive syllabus including core course modules in the different fields of management and geopolitics, a choice of 6 specialisations, 7 complementary certifications, and multiple experiences abroad. It affords its graduates excellent employability opportunities in the international job market.
More about the BBA International
For this truly international programme which brings together students from different countries on the Paris campus, we wanted to celebrate our launch in the French capital with a visit to one of its flagship institutions, the Senate. The students were given a tour in English by a guide who revealed some of the mysteries and hidden secrets of the Senate from both a historical and heritage point of view. It was a meaningful and educational experience for our captivated group of students.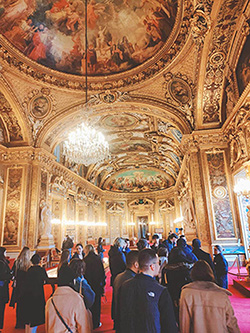 An opportunity to meet a member of the Senate 
In addition to learning about the institution itself, the second objective of this visit was to enable our students to meet an elected representative, Senator Jocelyne Guidez, who welcomed the BBA International students in the magnificent room where the original copy of the Constitution of the 5th Republic is on display. This mutually beneficial discussion touched on issues such as current affairs, education, inclusion and even disability, themes that are as important to the elected representative for Essonne as they are to Excelia. The Senator took advantage of this meeting to ask the students questions in order to understand them better and to ascertain their interests and concerns. For the students, it was a veritable opportunity to put their communication and leadership skills to the test!
A team-building

experience

 

In the true tradition of Excelia, where experience plays a major role in the education we provide, our teaching team wanted to organise this team-building activity to enable students to come together, sharing and exchanging ideas away from their usual environment. A unique way to develop shared memories and to instil a sense of team spirit and strong management values which are so essential in today's workplace!

Initial feedback has been very positive, and even the public transport strike in Paris was unable to prevent the event from taking place!