Each year, the platform Speak and Act compiles comments on employer brands and higher education institutions with the aim of creating rankings, one of which is the 'Best School Experience - Happiness Barometer'. By soliciting student feedback, this ranking highlights those schools that offer the most positive student experience.
The student experience…
the key to the Speak and Act Barometer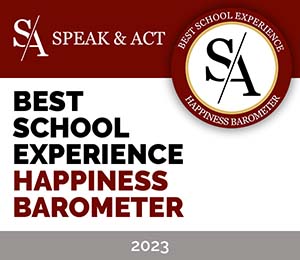 The 'Best School Experience - Happiness Barometer' published by Speak and Act is based exclusively on student opinions. Through feedback given by students, schools can assess whether they are providing a positive student experience, with the goal of being ranked among the best schools in the world. The purpose of Speak and Act survey is to help students select the most appropriate educational institution for their needs, whilst at the same time highlighting the most important trends and findings relating to the overall quality of the student experience.
How is the ranking compiled ?
The ranking of schools is based on 21 questions, posed exclusively to students, on a range of different topics such as…
Employer recognition of the school and corporate relations
Culture and values
Sense of belonging and student life
Quality of education and pedagogy
Infrastructure and facilities
For the results to be considered statistically representative and credible, the survey must be completed by at least 25% of the students attending the school. From these results, each school is given a score in the ranking. This score is intended to help future students and their parents assess which schools are considered 'a great place to study', offering a quality student experience.
Excelia... a
great place

to study

For this year's ranking, some 450 schools were evaluated and Excelia entered the 'Best School Experience - Happiness Barometer' for the first time with an impressive overall score of 4.01/5.  
In the overall school ranking: 
In the programme ranking: 
BBA International ranked 4th 
Master Grand Ecole ranked 5th 
Masters of Science (MSc) ranked 4th 
Bachelor Business ranked 6th
In the industry sector ranking: 
Excelia Digital School finished 3rd amongst the schools specialising in the field of Marketing and Communications 
Excelia Digital School finished 4th amongst the schools specialising in the field of IT and Digital Technology
Excelia Tourism School finished 2nd amongst the schools specialising in the field of Hospitality, Catering and Tourism 
Excelia's key strengths according to its students
85% of students consider themselves more aware of social and environmental issues (education provided, promotion of actions with a positive impact, etc.)
81% of students feel that the pedagogical resources provided are modern and of high quality
80% of students value the internship and/or work-study opportunities
Who better to speak about us than our students!
To the question 'What would you say are Excelia's strengths?', here are some of the responses from our students:
'Student diversity and a commitment to CSR are the strengths of the school.'
'Excelia's strengths are its Humacité and Climacité initiatives, and the opportunity to undertake an internship abroad.'
'Student awareness of CSR issues, and the fact that the school really listens to students and monitors our progress.'