These Regards croisés meetings give them the opportunity to discuss alternative viewpoints...
"Reinventing the customer journey after the health crisis": this round table, organised by Excelia, took place on 9th November on the Tours campus, bringing together local business managers and researchers, who were invited to debate the issue for 1.5 hours in front of an audience of decision-makers and students from the Master programmes.
The School has a firm resolve to disseminate the fruits of research to a wider audience, including entrepreneurs, who are actively involved in problem-solving and yet have limited time available to actually read the relevant studies! These Regards croisés meetings give them the opportunity to discuss alternative viewpoints, with a common denominator... how academia can contribute to the improvement of managerial practices!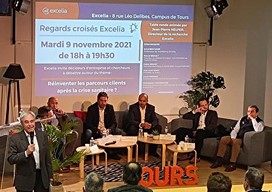 So, how did companies manage the customer journey, an important management challenge, during the 18-month health crisis? And how have they managed it since? Two words sum up the content of the discussions: acceleration and revelation. There was no feeling of disruption, but rather an increase in the influence of digital technology and remote relations across all sectors.  At the same time, there was a clear expectation on the part of consumers to be looked after, to be reassured and to be listened to, which is why researchers have detected an almost Freudian logic, namely that the COVID period led to increased introspection, a better understanding of oneself and one's needs. This change in customer behaviour has had an effect on company personnel, who have proved to be more resilient by rising to the occasion and tackling unfamiliar problems. However, as concerns teleworking, opinions remain divided, with those for and those against.
The host for the evening, Jean-Pierre Helfer, Director of Research at Excelia, confirmed that the objective was achieved: "When the researchers spoke, applying concepts to the perceptions of the entrepreneurs, the latter's eyes shone, and when the business leaders spoke, the researchers were all ears".
The next round table will take place in Orleans.