Last week, Excelia's BBA International students on the Paris and La Rochelle campuses hosted their counterparts from international partner universities as part of Global Network Week.
Global Network Week
in a nutshell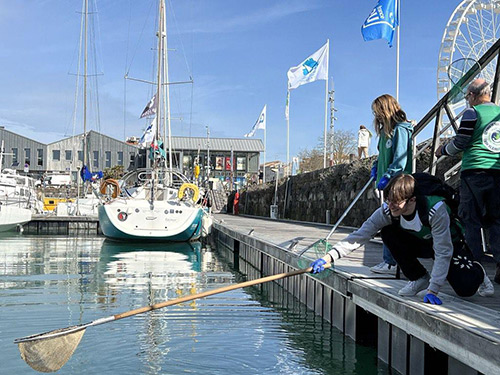 Global Network Week is an event organised by Excelia Business School, bringing together our learners as well as students and professors from various international universities that are members of the Global Network for Advanced Management (GNAM).
The GNAM is a global network of leading business schools, which includes establishments such as Yale School of Management, INSEAD, and even London Business School. The aim of Global Network Week is to enable all students attending to participate in an intensive programme of lectures, presentations, and local company visits, each year focussing on a specific theme. Visiting international students also have the opportunity to learn more about the culture and everyday life of their host city.
Global Network Week is the perfect opportunity for students to acquire international experience and connect with their peers from around the world. It also helps to strengthen their understanding of current global issues facing businesses.
Excelia… a
pioneer

in the field of CSR and Sustainable Development 

At Excelia, we are extremely proud to be pioneers in the field of CSR and Sustainable Development. We believe that sustainable development is the future of our planet and should be a major concern for companies. This is why we chose this important theme for the Global Network Week 2023.

Find out more about our CSR vision

 
The week's
programme
Students on the BBA International on the Paris and La Rochelle campuses, as well as visiting international students, started their Global Network Week with presentations on climate change and sustainable development given by Valérie Fernandes and Dr Kelechi Anyigor. This was followed by a visit to La Rochelle's Aquarium, one of the largest privately-owned aquariums in Europe.
On Day 2, students took part in outdoor activities such as picking up plastic litter and cigarette butts around La Rochelle's historic port, or they participated in an 'eco-friendly' walk organised by ECHO-MER.
Students began the day by attending two presentations, the first by Gérard Blanchard, Vice-Chairman of La Rochelle conurbation, heading up its zero-carbon project, and the second by Karolien Van Riel, a lecturer in sustainable business management. The afternoon featured a visit to a local landmark… the stadium of La Rochelle's renowned rugby club!
Enfin, lors de leur dernier jour, ils ont pu assister à trois conférences abordant les thèmes de la gestion durable des entreprises, de l'environnement, de l'économie circulaire, de l'engagement solidaire et de la responsabilité sociale présentés par Dimbi Ramonjy, Guy Fournier et AFEV La Rochelle.
For their last day, students attended three presentations addressing such themes as sustainable business management, the environment, the circular economy, solidarity commitment, and social responsibility, presented by Dimbi Ramonjy, Guy Fournier, and the Afev La Rochelle (Association de la Fondation Étudiante pour la Ville – student association for the city of La Rochelle).
Pride of place given to the
BBA International
The BBA International is a 4-year programme preparing students for careers in international business. It offers a high-level education in management, numerous experiences in the field and an introduction to cultural diversity. 
The programme includes a compulsory study year abroad and opportunities for international internships. Students are also able to take part in intercultural projects and events such as Global Network Week, offering them a unique chance to meet other students from all over the world and to collaborate on joint projects. Students on the BBA International are therefore fully prepared to pursue successful careers in today's dynamic and global business environment.
 
Find out more about the BBA International