The Eiffel Excellence Scholarship Programme: a programme of excellence rewarding EXceptional EXcelians!
Excellence… Excelian-style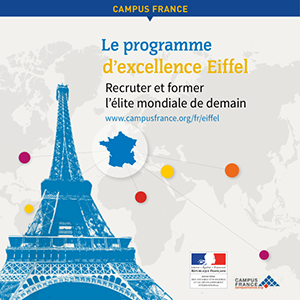 Put a pen between your teeth and try to say 'Exceptional Excelians obtain a scholarship of excellence!'
Yes, since 2019, at Excelia we have always had at least one scholarship awarded each year to one of our students.  And for the coming academic year, our Armenian BBA student, Ripcik Kazarian, has been selected to receive the Eiffel Scholarship.
Created in 1999 by the Ministry for Europe and Foreign Affairs together with the Ministry of Education, this prestigious scholarship enables French higher education institutions to attract, and reward international students with excellent profiles, looking to study at Master or Doctorate level. 
A tough selection process!
As with any programme of excellence, there are many applicants but few are chosen, as the selection process is very rigorous. Each application is analysed by a panel of experts who award the scholarships to the candidates with the most distinguished academic records.
This year, out of the 1,478 applications submitted at a national level, only 347 were selected.
The selection criteria are very specific and focus on…
nationality: only international students can apply
academic record: the academic results for the 3 years preceding the application are examined and must show a level of excellence and, for the PhD, the innovative nature of the research topic
the profile which has to correspond to the international policy of the establishment: it is essential to demonstrate how hosting this student will strengthen the establishment's international strategy and visibility
The four principal fields of study covered by the Eiffel Scholarship are…
Law
Economics and Management
Engineering Science for Master level and Sciences, more generally, for Doctorate level
Political Sciences
Master level
Successful candidates receive a monthly allowance of €1,181, plus certain other financial benefits, as follows:
International Transport: a return flight between country of origin and France
National Transport: provision, by Campus France, of train journey to the first place of residence, as well as from the last place of residence to the airport for the return journey
Local Transport: reimbursement, up to a maximum of €50, of the student's journey from the airport or railway station (taxi, public transport, etc.) to their first place of residence
Social security cover by Campus France, whilst waiting to join the French social security system, for non-EU nationals
Complementary Health Insurance (known as a mutuelle): the scholarship student is obliged to take out a policy with a mutual insurance company within two months of their arrival in France – the cost of this insurance is reimbursed upon presentation of proof of payment, up to a maximum amount which is set annually by the Ministry for Foreign Affairs, whatever the duration of the contract
Cultural events
They may also receive supplementary housing allowance for accommodation outside university residences, upon presentation of proof of both the first rental payment and the rental contract
Doctorate level
Successful candidates preparing for a Doctorate receive a grant of €1,700 and benefit from the same advantages as for Master level.
Whether at Master or Doctorate level, the scholarship holder must start their study programme at their host institution in France in order to receive their first monthly allowance.
Every year since 2019, Excelia has submitted applications to this programme of excellence for its best international students, enabling them to obtain a scholarship and to benefit from Excelia's excellent education and research resources.
For the year 2019-2020, our Czech student, Vojtech Zajicek, was one of those selected.