XL Entrepreneur… how Excelia continues to develop its role in supporting companies and entrepreneurs in its local regions.
Excelia

has further developed its role
in supporting
companies
and
entrepreneurs
in
its local regions
with the creation of a
new business unit: XL Entrepreneur
Impact innovation
With an ecosystem firmly focussed on innovation, Excelia continues to confirm its rightful position as a training ground for entrepreneurs who are committed to high-impact innovation… innovation that is crucial to the evolution of our world. Ever sensitive to the carbon footprint of humans and the impact of their actions, Excelia strives to build a better world for the people within the local regions. This mindset is at the heart of our mission and is evident in all our programmes. To support our entrepreneurs, right from the initial idea stage to the creation of a company, and even to help accelerate the development of new responsible businesses, Excelia now relies on its Entrepreneurship Coordinator, David Merieau, and on all those stakeholders associated with high-impact innovation.
XL ENTREPRENEUR TRACK: UNIQUE SUPPORT
The XL Entrepreneur Track is an initiative dedicated to entrepreneurship in order to promote innovation with impact in our local regions. It is aimed at all Excelia students who want to embark on an entrepreneurial adventure.
The initiative encompasses personal coaching, tailor-made workshops, mentoring by entrepreneurs as well as access to Excelia's professional business networks.
Joining the XL Entrepreneur Track:
Once enrolled at Excelia, you can submit your application, which will be reviewed by a committee to assess the relevance of the project.
To obtain an application document, you will need to contact David Merieau. You have the choice between the application form for an idea and an application form for a project, depending on the stage of your project.
CONTACT DAVID MERIEAU FOR FURTHER INFORMATION
Your project will be reviewed during one of the two annual committee meetings: in October or in April.
For all validated applications, you will have to sign a charter (Charte d'Engagement) and you will be given a personalised roadmap detailing your workshops and coaching sessions.
From idea to business creation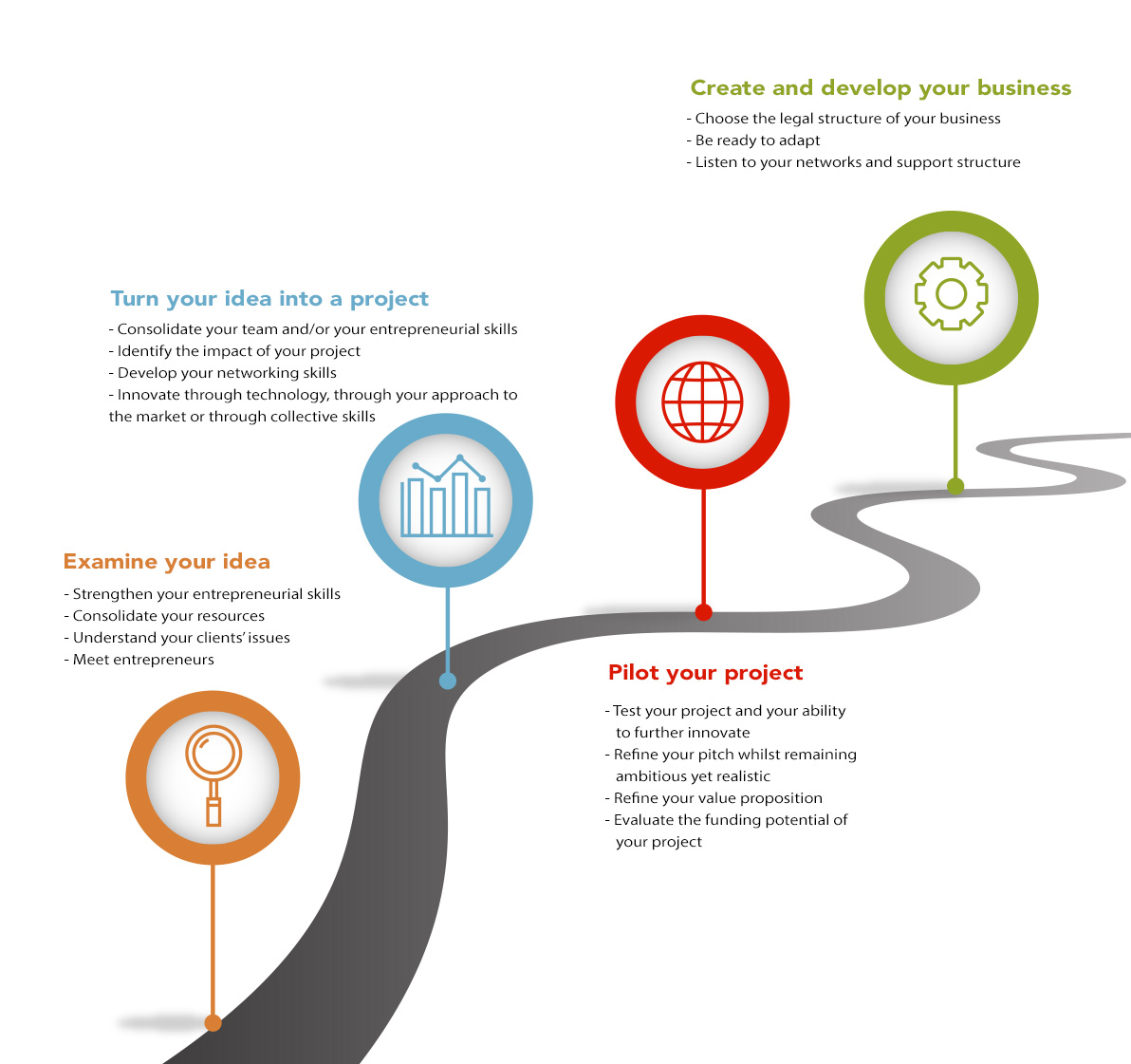 Specialised training 
Excelia offers excellent study programmes specialising in entrepreneurship.
The MSc in Entrepreneurship (equivalent to 5 years of post-High School education) offers tailor-made support to candidates with an entrepreneurial project and to those involved in innovation.
MORE ABOUT THE MSc IN ENTREPRENEURSHIP
The first semester of Year 4 of the Master in Management offers students the opportunity to choose between 4 specialisations, including entrepreneurship.
MORE ABOUT THE MASTER IN MANAGEMENT
The objective of these specialisations and of the XL Entrepreneur initiative is to prepare students to become entrepreneurs, whether to create or take over a company, or to become a manager. Students are therefore trained to be able to work in a wide range of professions using practical operational tools that are employed within companies.
They also have the possibility of studying for the D2E – Diplôme universitaire Étudiant-Entrepreneur, enabling them to obtain the national status of student-entrepreneur with the development of an entrepreneurial project. It ensures that they can successfully carry out their project with a maximum of assurance and visibility.