A Class of 1995 MiM graduate, Vincent Rostaing is "a dinosaur", as he jokingly puts it! It's hard to even imagine that back in his day, Excelia was surrounded by fields!
Could you briefly introduce yourself to our readers?
I began my career working as an employee, firstly selling advertising space. Then I worked in a fibre optic installation company, then in consulting and IT engineering. In 2008, during the economic crisis, I created my one-man business providing consulting services in organisational transformation; initially I specialised in managing the career paths of candidates and employees through social media, and then I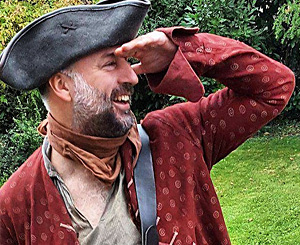 started working on new management methods brought about by the internal and external complexities involved in these same social media. Now, I also assist companies in their digital, agility and innovation transformations, whatever their size... whether it's a start-up of 2 to 3 people or a company with tens of thousands of employees. I like both types of involvement.

How have you found this confinement period in terms of your professional and personal life?
Apart from a few training courses that I have been able to maintain remotely, I have had to put my business on hold for the last few weeks. I live in a very small commune in Sarthe, my house is surrounded by 2 hectares of countryside, my children are all grown up now, so I don't feel confined at all but actually rather privileged! From time to time, I lend a hand at the local convenience store to unload pallets and stack the shelves. Only two people work there and, due to current demand, they are having to manage a stock that is much larger than they are able to deal with... so it only seems right to for me to give them a hand. I'm involved in the local council, and together with the other representatives, I'm currently organising how we can work together remotely in order to help the residents. We're certainly not sitting idle!

So, are you an active member of the Alumni network?
Well, I wasn't for the first 19 years after graduating from the School... But 5 years ago, with my wife, also an Excelia graduate, and a few friends, I organised a party in La Rochelle to celebrate the 20th anniversary of the Class of '95. Nearly half of the students attended, it was a magic moment! It gave us the opportunity to renew some friendships and to create some strong ties.

Why did you set up the Friday night aperitif?
The idea was born from the desire to know how everybody is coping with this period of confinement... those in Paris, in the suburbs, in the provinces! It's a good way to show you're thinking of others as well as supporting each other remotely. For instance, our different discussions have contributed to the creation, in record time, of an online shop for the brother of an Alumni who is a wine producer. This will help him to sell his production, and to be able to look forward to the September harvests more serenely... well, we certainly hope so because the idea, born a week ago, only went live yesterday! (Editor's note: www.zinckshop.com bookmark the address! ;): you can order now as they are still delivering during the confinement). By the way, a little personal message to those organising the 25th anniversary celebration: we particularly like this wine so why not order plenty of it, we may have aged a little, but we still enjoy a good aperitif!
In fact, we're considering going a little further because we think it would be interesting to discuss good practices, to talk about our respective needs, and to share our desire to improve and develop on specific subjects for which someone amongst us may be able to impart their skills and knowledge. For example, it's obvious that the crisis is going to have a financial impact, so why not consider exchanging houses this summer? We are evolving in a sphere of trust and, beyond the classic way of doing things, there are probably other models out there that we could set up amongst Alumni.

Is there anything that you have found particularly remarkable during this period?
I am torn between the satisfaction in seeing an amazing spirit of generosity that shows that although we may be geographically far from each other, we are not isolated. On the other hand, beyond this sphere of trust that I mentioned, I imagine there will be a surge of anger, and many reproaches will be formulated after the event, when in reality, no one could have anticipated this current situation, a situation that is constantly being re-evaluated. In fact, it is more the "after" that worries me than the "during". The social climate was already complex before the epidemic, and I am worried about the repercussions. I try to reassure myself that at least I have control over what is within my scope... at least I can do something about that.

Is there anything you'd like to add?
In the face of this "major challenge" that awaits us, I think we need to work together, strengthen our ties and relationships, open up our little worlds to form a community of talent, energy and potential which we can all benefit from. In other words, creating a network for the benefit of all the different Excelia communities: Alumni, Schools, Students... In any case, the 25th anniversary of the class of '95 will take place on the 18th and 19th of September 2020, over the induction weekend. So, if you're in La Rochelle, buy earplugs because we'll be bringing our singing voices with us and are determined to party like we've never done before :)!
More informations about Alumni network.