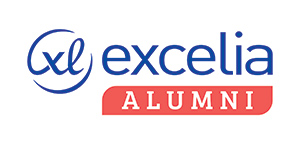 Excelia Alumni graduate association comprises...
a team of 50 people (volunteers and paid employees) who, on a daily basis, work to improve your employability, your professional mobility and create a community
more than 42,000 graduates
2,000 members
By creating a strong link between the graduates of all Excelia's programmes and year groups, Excelia Alumni aims, above all, to be a springboard to employability and professional mobility.
This Association will remain with you throughout your professional life: the community of entrepreneurs, business leaders and decision-makers that welcomes you, all embrace the same values of sharing and mutual aid. This strong bond unites our Alumni transcending year groups and worldwide frontiers.
An important link enhancing employability
Created in 1991, today, our Association acts as a fundamental link between the 42,000 graduates of our Higher Education Group. Forming a real juncture between student and professional life, this organisation offers, on an international scale, the opportunity for Group graduates and student members alike to keep in touch with each other, and to have access to exclusive job offers and specialised events.
With the main objective being developing the employability of graduates and creating opportunities for sharing and discussing ideas together, the Association has become a major actor in the life of our Group.
The Alumni missions are manifold
To provide a range of tools, services and professional support adapted to every stage of life
To offer job search advice and coaching
To provide advice and coaching for those seeking reorientation (with experienced graduates)
To facilitate discussions between the Group's graduates
To create and maintain links between graduates in their professional lives and the Group's current students
To develop and organise both professional and fun events to strengthen links
To disseminate job and internship offers, often emanating from the network itself
To help publicise the Group so as to assist vocational integration and professional career development
To offer the possibility of getting involved in the development of Excelia
To extend the influence and activity of Excelia Alumni association, internationally
Key figures
more than 42,000 Alumni
across 150 countries
more than 100 annual events  
50 volunteers
Services
Calendar  Directory  Job Offers  News
Contact
For further information about the Association or to get in touch with a member of Excelia's graduate network: +33 (0)5 16 19 62 66 / +33 (0)6 08 75 36 82
Your representatives:
Sandy Micheneau - Head of Student Relations/Alumni, Excelia
Aurélie Bonneau - General Manager, Excelia Alumni
Marine Deshayes - Communication Manager, Excelia Alumni
Mathilde Mignot - Content Manager, Excelia Alumni
Maelys Verdenet – Business Developper, Excelia Alumni
Pauline Vieux – Communities & Event Manager, Excelia Alumni
Follow us:
Website : alumni-lr-excelia-group.org
LinkedIn Page LinkedIn Group
Facebook Instagram