90% of disabilities are invisible and 1% of our students suffer from a disability of one sort or another. Yet disability is something that affects everyone. Excelia is therefore fully committed to raising awareness among its employees with regard to recognising and understanding students with disabilities.
On 1st April, Excelia opened its own Apprenticeship Training Centre, setting out its task sheet. Following this, on 12th May 2020, the Group signed a Regional Charter of Commitment as part of an initiative to improve the accessibility of education and training for people with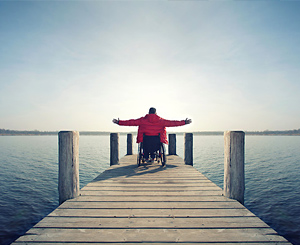 disabilities in the context of the Programme Régional d'accès à la Formation et à la Qualification des Personnes Handicapées (regional programme for access to education and qualifications for people with disabilities). It's a little bit of a mouthful, isn't it... but enough talk, action is what's needed! Signing this Charter is not only confirmation of, but will further strengthen, a process in which we are already involved. Regulations stipulate that we have to provide facilities and make allowances to ensure that our premises and our teaching methods are accessible to all. We currently welcome 45 students who are registered disabled. 

With the operational support of the Centre Ressource Formation Handicap (disability training resource centre), among other things we will now benefit from funding, financial assistance to help those with disabilities to access education, the loan of equipment, as well as progress indicators to guide us in developing good practices. 

With this in mind, from 29th June to 9th July, training courses were held for employees (with some 23 people participating... well done!) and further sessions will be organised to raise awareness among our personnel, to enable them to understand the various disabilities (and associated challenges, which can often be something of a practical nature)... visual impairment, hearing impairment, the different "dys" (dyslexia, dyspraxia, etc.) and other conditions. 

Excelia organises specially-adapted admissions test sessions to accommodate the different conditions, thus enabling students suffering from disabilities to be acknowledged and supported right from the outset. 

In addition, they receive personal assistance throughout their studies, right up until graduation, including in the workplace for those students undertaking a work-study track.