Seeing further, thinking bigger.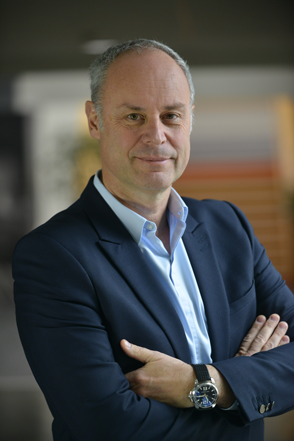 Excelia, a Group firmly rooted in its local region, is pursuing its policy of growth through a strategy of differentiation and internationalisation. As a progressive, diverse and strong Group, over the coming years, we intend to continue our mission of providing high quality degree programmes and executive education, as well as undertaking basic and applied research, whilst at the same time ensuring that we contribute to the influence of our local region at both a national and an international level.
Excelia has always been a pioneer in its sphere of activity. By becoming an educational centre encompassing 5 multi-disciplinary and multi-campus Schools, it has developed a new model designed to respond to students' professional ambitions as well as to the significant demands from companies in terms of the skills and competencies required for current and for future jobs.
Today, the Group comprises a management school 'Excelia Business School', which is AACSB, EPAS, EQUIS and AMBA accredited, a school of tourism 'Excelia Tourism School', which is TedQual accredited, a digital school 'Excelia Digital Communication School' and finally 'Excelia Executive Education', a school offering executive education.
Experiential learning at the heart of our model
All the programmes we offer have been developed around three main principles: academic teaching, experience in the field (in France and abroad), and personal development (general knowledge, self-awareness and career projection). Through company-based internships and projects, in addition to a variety of humanitarian, social or civic experiences, we enable our students to 'see' and 'experience' the realities of the world around them… this is one of the main differentiating features of Excelia.
Pedagogical innovation as a driving force
Our pedagogical objective is to train students to become future managers capable of instigating innovation and pioneering the transformation of companies. This is based on a 3-way approach encompassing creativity, management and technology. This principle filters down through all our programmes. It involves innovative, mobile learning methods and the digital transformation of courses. Through the synergy between our Schools, and the development of double degrees (both internally and through partnerships with other institutions), we aim to continue to develop a range of courses that promote the acquisition of complementary skills and competencies, preparing our students to become managers who are not only flexible, but have the ability to understand both existing and future jobs and careers.
Our international dimension
Since its creation, Excelia has always maintained an openness to the world, and this global approach and attitude have contributed to the Group's sphere of influence. We currently have 1500 international students on campus and our objective is to see this number continue to increase. The Group has a network of several offices abroad (China, the West Indies/ Americas, Cameroon, Morocco, Europa, Ivory Coast and India) whose mission is not only to promote our Schools and our education courses and programmes, but also to recruit international students. In addition, they contribute to further developing our networks with French or foreign companies and with our Alumni, so as to help students secure internships and jobs. Our goal is also to increase the number of international lecturers and to make programmes more widely available in English.