ChangeNOW and Les Echos START ranking: Excelia Business School ranked 4th amongst the schools most committed to the ecological and social transition!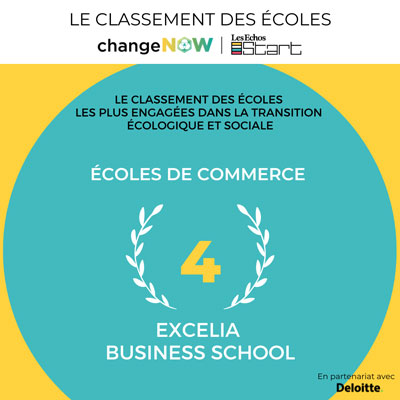 58 establishments were involved in this year's ranking by ChangeNOW and Les Echos START, compared to 47 last year. It highlights the schools and universities that are most progressive in addressing environmental and societal issues. The questionnaire included some fifty points on six different themes. 
Excelia Business School scored particularly well on : 
its programmes which focus on environmental and social issues
its strategies, which make it an exemplary school in the field of CSR
its CSR policies promoting diversity and equal opportunities
As a pioneer in CSR and Sustainable Development for more than 20 years, Excelia has made these issues a strategic priority, both in its research and in its teaching. Excelia is determined to be even more active in the transformations required by the current climate crisis. This ranking is therefore a tribute to these pedagogical and strategic choices, which ensure that, through our study programmes, students become socially responsible and environmentally aware professionals.