MEDIA LIBRARY
Located at the heart of the School, near the entrance, the Media Library is open to students 6 days a week
The Media Library extends over 2 levels (475m2)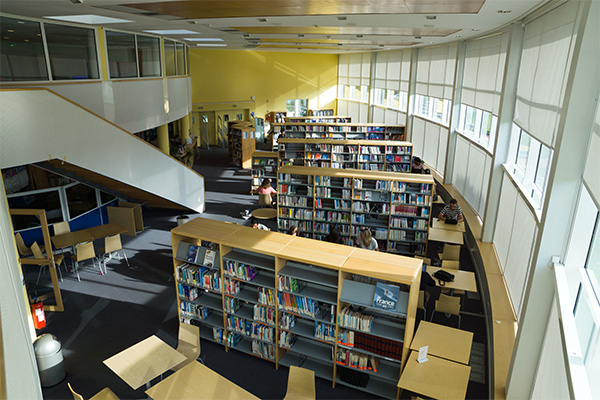 One Media Library, several different user areas
A designated zone on the ground floor, ideal for working alone, in peace and quiet
Coworking areas for group discussions, located on the mezzanine
Work in tranquillity in one of three designated private areas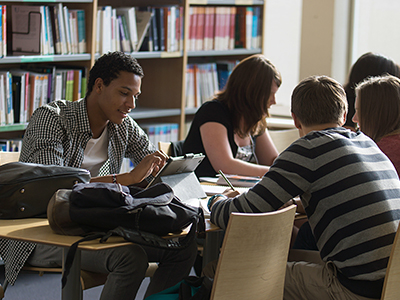 Easily accessible resources
A wealth of international reference resources relevant to the specialisations offered by the School such as Management, Marketing, Tourism and Corporate Social Responsibility.
A multitude of resources available in different formats, paper or digital (via a dozen data bases allowing 24/7 access from anywhere), several tens of thousands of ebooks and thousands of professional and academic articles online
One Media Library, many services 

My Library, the central documentation tool for all research
All relevant resources and information available to students throughout their time at the School
A dedicated team to guide and assist both teachers and students in their search for information; workshops are organised in parallel with methodology courses to learn about documentation tools
Conditions of Use
The loan of documents is strictly reserved for the School's students, teaching faculty and employees.
Partners
UNWTO : the School's Media Library is a depository library for the World Tourism Organization
University Library : an agreement with La Rochelle University library, 10 minutes away by foot, enables our students to have access to their library resources.
Aciege, a network of Centres d'Information des Ecoles de Gestion de la CGE (business school libraries).
           
Contact us
Call us : 05 46 51 77 94