The restrictions imposed on us by the health crisis offer an opportunity to be even more inventive to ensure we remain as appealing as possible.
No need to worry about borders reopening or obtaining a visa as the new online @ccesssolutions offered by La Rochelle Academy will enable international students to start Semester 1 with complete confidence.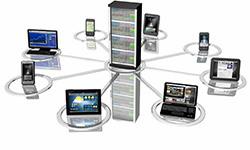 For the Business Foundation Programme, Semester 1 will be carried out online, with French language lessons in the morning and Management lessons in the afternoon. The same will apply to courses in French as a Foreign Language and English as a Foreign Language. In addition, the Bachelor Foundation Year will also be available remotely as it is a programme that has 60% international students from all corners of the world (Ivory Coast, Senegal, Morocco, Algeria, Belgium, United States, Vietnam, etc.) and 40% French students. "The Bachelor Foundation Year has the advantage of preparing students to directly join Year 2 of one of Excelia Group's Bachelor programmes", explains Maria Belhaj, Head of Certificate-awarding Programmes and the French Language Institute. 
The Bachelor Foundation Year offers one programme, two study locations and two possible start dates: October and February in La Rochelle for the French track, and a February 2021 start date for the English track which will take place on the campus of ISIT, our partner in Paris. 
Designed for students who are unsure about their choice of studies or who are considering a change of direction, the Bachelor Foundation Year is now also available remotely, referred to as @ccess BFY, and is aimed at those who cannot physically attend face-to-face lessons but would still like to continue their studies. For the moment, only Semester 1 lessons have been planned remotely, as it is hoped that students will be able to join their classmates on campus in La Rochelle in February 2021. 
In addition, in terms of pedagogical content, the Bachelor Foundation Year has another new feature... several periods of internship are now included in the programme: 15 days in December, 4 weeks in January (projects linked to humanitarian and environmental issues), and finally an end-of-programme internship or a language Summer School at one of our partner universities.