Our virtual tour enables potential students to discover the beauty of La Rochelle and explore the advantages of our campus. Once again, Excelia has demonstrated just how well it can reinvent itself for the benefit of its students!
AN ENHANCED VIRTUAL TOUR OF OUR CAMPUS WITH A 3D EXPERIENCE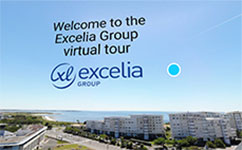 Don't worry if you can't come to us... because we'll come to you!
An enhanced virtual tour of the campus offers a 3D, interactive and immersive experience, with relevant themes:
Welcome to Excelia, Welcome service and Quality of Life, Humacité©, CSR, Campus life, Clubs and Associations, Pedagogy... as well as the international and cosmopolitan character of the Excelian community!
How to get the most out of your visit
For the best possible user experience, use a mobile or tablet
To start, click on the white spots with a blue arrow and discover the messages that our students have prepared to help guide you through each themed area
Throughout your visit, you will see blue spots, move your mouse over them and you will be able to watch various videos about what Excelia has to offer
To move around, just click on the grey bubbles on the ground
Ready?