Excelia offers personalised qualification-awarding study programmes with an international outlook... training students to become the managers of tomorrow!
DON'T PANIC - THERE IS STILL TIME TO ENROL ON OUR STUDY PROGRAMMES!
Excelia study programmes offering alternative start dates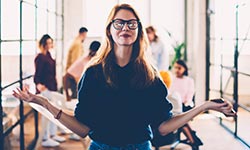 The majority of students at Excelia start their academic year in September. However, not all students are available to do so. Some are still abroad, perhaps on an internship or a study trip. Others are undecided and still thinking about their future studies and career options. These different scenarios have resulted in alternative start dates being offered for many of the study programmes at the most prestigious business schools. Excelia, ranked by the Financial Times as one of the top 100 Business Schools in the world, has naturally followed suit!
Several of the programmes at Excelia Business School and Excelia Tourism & Hospitality School offer students a January start date, and for the Bachelor First Year programme, there is the possibility of a February start date. Students choosing an alternative start date follow a personalised programme, on a fast-track. Excelia's Faculty and support teams are committed to providing personalised assistance to students who choose an alternative start date.
Excelia has considerable experience in managing personalised study tracks for its students, so you can be assured of getting the help and support you need as part of your studies.
LA ROCHELLE CAMPUS
Bachelor in Tourism & Hospitality Management Year 3   (available for certain specialisations Start date: 6th January 2021
Masters of Science (MSc) Year 1    Start date: 25th January 2021
Master of Science (MSc) in Engineering Business Management Year 2  : Start date: 5th January 2021
TOURS CAMPUS

Bachelor in Tourism & Hospitality Management Year 1 : Start date: 1st February 2021
MSc in International Tourism and Destination Management Year 1 : Start date: 6th January 2021
OFF-SITE STUDY LOCATION IN PARIS

BBA International Year 1 : Start date: 5th January 2021
Bachelor First Year : Start date: 2nd February 2021