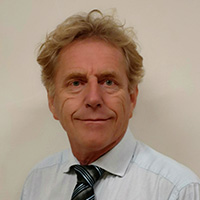 Head of the MSc in Destination Management programme
Thierry Rigaux
The MSc in Destination Management provides you with an array of opportunities and prepares you to enter a multifaceted industry, whether in the travel business, working for travel agencies, tour operators or web operators, or working locally at a tourist information centre. Throughout the programme, industry professionals will be on hand to ensure that your learning is in perfect harmony with the realities of the industry.
Use your finger to slide
The MSc in Destination Management is a higher-education programme from La Rochelle Tourism & Hospitality School

The MSc in Destination Management is open to students who have already studied in higher education for a minimum of 3 years. The programme offers a variety of professional opportunities and will prepare you to enter a very diverse job market, whether as an actor in the travel industry (Incoming Tour Operator, Tour Operator, Virtual Tour Operator etc.) or as a professional working locally, in a specific city or region (e.g. city Tourist Information Centre). The MSc has been developed to ensure you enter the job market with ease, by preparing you to:

become a key player in the promotion of a tourist destination or an area, whether local, regional or national… from the conception of a tourism product or service through to its market launch.
become a fully-operational manager in an industry that is constantly evolving, particularly due to digital technology. By the end of the programme, you will have all the necessary knowledge and skills to tackle the major evolutions in the tourism industry.

3 principal areas of focus

- Digital Technology:because 'digital' represents more than 2/3 of industry turnover, and because it is not only transforming the way the industry's traditional actors operate (Incoming Tour Operators, Tour operators etc.) but is also creating new careers (e.g. Traffic Manager).

- The Customer Experience: because customer satisfaction means developing offers that are not merely a group of random 'services' thrown together.

- Local areas and regions: because in a context of intense competition between destinations, it is essential to totally understand the dynamics of each destination: seasonality, type of clientele and tourism offer etc.

Languages

Year 1: Lessons taught in French or English
Year 2: Lessons taught in French

The different courses and projects are provided for indicative purposes only and are subject to change from one year to the next. The specialisations offered will only be available if the required minimum number of students is reached.

Year 1

Year 1 focusses on core courses in the fundamentals of business, management and personal development as well as electives linked to tourism. Students benefit from the expertise of the Faculties from ESG-UQAM and from La Rochelle School of Tourism & Hospitality.

Themes in Year 1:

Becoming a successful and responsible leader
Winning markets and being profitable
Motivating the organisation and achieving objectives
Taking a strategic vision of organisations
Putting things into practice: lessons in chosen specialisation (industry-specific or job-specific)

Highlights in Year 1:

Strong emphasis on Soft Skills: throughout the year, students will work on human and relational qualities in business such as listening skills, open-mindedness, communication skills, creativity and leadership
Interdisciplinary team work: throughout the year, students will work in groups on real-life business management scenarios
Coach Inside: through this unique approach, students benefit from individual and collective coaching, to not only support and guide them on issues related to the business world, but also to improve their personal skills and competencies

Year 2

Year 2 focusses on a specialisation. The aim is to train our students to take up managerial positions, whilst developing their expertise linked to the tourism industry.

Year 2 courses include:

Digital Marketing & Community Management
The Customer Experience
Destination Management
New Business Models in Tourism
The Management of Tourism Organisations
Regional Branding and Public sector/Private sector partnerships
Destination Marketing
Regional Management of Sustainable Development
Global Code of Ethics - advanced

Highlights of Year 2:

An entire academic year focussing on your specialisation (450 hours of lessons)
A professionally-oriented year, finishing with a 6-month internship
Involvement and participation of industry experts

By joining the MSc in Destination Management, you will be part of a School recognised for its expertise in tourism and hospitality management. This programme is the culmination of your studies during which you will have had many different experiences, both academic and professional, in France and abroad.

Preparing you for the demands of the corporate world, this MSc, combining academic learning with real-life professional experience, will ensure that you are fully prepared to enter the job market.

Each year consists of 2 semesters, followed by an internship (5 months in Year 1, 6 months in Year 2). These internships can be carried out in France or abroad (this is the case for more than 30%). Each student is guided by a mentor, who is a active industry professional, a specialist from the sector in which the student would like to work. In most cases, mentors are graduates of the programme. They provide valuable advice throughout the year in areas such as: your internship research strategy, developing your professional network etc.

Humacité©

You have the possibility of carrying out a 2-month social, humanitarian or civic voluntary project in an NGO or an association, either in France or abroad. This is one of the unique features of Excelia Group, which is committed to educating students to become future managers who are both responsible and conscious of the importance of their role in society.

Professional experience

Each academic year ends with a company-based internship, in France or abroad. By the end of your studies, your CV will boast 9-11 months' company-based work experience… even more if you opt for the work-study track.

Find out more

Coach inside

This unique educational tool has been designed to optimise intercultural teamwork and to develop leadership skills. In Year 1, you will be placed in teams to work on a real company case study covering 5 different course modules. Each group puts forward their complete analysis along with recommendations in line with the themes being addressed such as Brand Leadership, Financial Management, Multi-channel Marketing, Operations Management or even Strategic Management of Organisations. Throughout this team case study project, a coach is on hand to analyse and help you optimise your way of working and your leadership skills, as well as helping you develop your Soft Skills (human and relational qualities). This is important as these Soft Skills cannot be taught as a standard management course.

Student clubs and associations

Like all of our students, you have the possibility of getting involved in one of the 50 clubs and associations at Excelia Group.
With a focus on both collective and individual fulfilment, student involvement in the various clubs and associations is in keeping with the Group's fundamental values and gives you the opportunity to put your skills to the test... all within a secure and professional framework.

Support and guidance

Throughout your studies, you will benefit from personalised support and guidance. In tandem to this, the School offers workshops structured around personal development, communication tools (such as CVs and cover letters), understanding the job market, learning about different careers and developing your professional network.

Gap year

You have the option of taking a gap year between your two years of study, providing you with the opportunity of...

gaining valuable professional experience
carrying out a social, humanitarian or civic voluntary project
improving your foreign language ability and learning about other cultures

Consultancy Project

You will carry out a consultancy project on behalf of a major player in the industry (e.g. Atout France, Futuroscope). In groups, you will complete a detailed analysis of the issue and then present your findings and associated recommendations to a panel made up of managers from the partner company.

Examples

La Rochelle – How can we adapt to our local area? World Forum event for a Responsible Economy 2016
Paris – Developing a night-time tourism economy. Welcome City Lab 2016
How can we continue to develop our business? Yescapa, specialist in the hire of motorhomes between private individuals: Exploring the possibilities of joint promotions with local and regional tourist areas as well as the promotion of new tourist routes, less accessible tourist destinations within the area and specialist tourist products or services (outdoor tourism, nature tourism etc.).

Industry Seminars

Several times a year, graduates visit the School to present and explain the different strategies adopted by industry professionals or perhaps to give a presentation on a specific career.

End-of-studies dissertation

Your programme culminates with your end-of-studies dissertation, which enables the School to evaluate your ability to understand and deal with a complex issue through theoretical analysis and practical insight. This dissertation is a real opportunity to conduct research on an operational theme, supervised by research lecturers, and will have an important place on your CV. It will demonstrate your capacity to identify industry-specific issues, undertake analytical work and assess your findings, as well as providing proof of your ability to present relevant, operational and practical solutions.

APEL – Accreditation of Prior Experiential Learning (known as VAE in France)

Through APEL, you can be awarded all or part of a degree through the recognition of your previous experience, whether or not this was in paid employment. Your skills and competencies are therefore acknowledged without you having to commit to a long study course.

Career opportunities

The MSc in Destination Management prepares students for careers in destination management.

Our graduates work in a wide variety of posts, in organisations such as Travel Agencies, Tour Operators, Incoming Tour Operators, Tourist Information Centres, Local and Regional Tourist Boards or Internet-based Travel Operators.

Facts & Figures

35%

of our graduates secure a job contract before the end of their studies

85%

of our graduates find a job within 6 months of graduating

42% 

work abroad – the principal countries are United Kingdom, Spain, Australia, India, United Arab Emirates, Indonesia

Sectors they work in:

43% in Hospitality and Catering

20% in Event Management

18% in the Travel Industry

8% in Tourist Boards

5% in Leisure and Entertainment

6% in other sectors of tourism

 

(2018 figures)

Tuition Fees 2019-2020

European students*

| | |
| --- | --- |
| Year 1 & 2 | €23,000 (or €11,500 per year) |
| Year 2 only | €13,500 |

*28 member states of the European Union: Austria, Belgium, Bulgaria, Croatia, Cyprus, Czech Republic, Denmark, Estonia, Finland, France and French Overseas Territories, Germany, Greece, Hungary, Ireland, Italy, Latvia, Lithuania, Luxembourg, Malta, Netherlands, Poland, Portugal, Romania, Slovakia, Slovenia, Spain, Sweden, United Kingdom.

Non-European students

| | |
| --- | --- |
| Year 1 & 2 | €26,500 (or €13,250 per year) |
| Year 2 only | €15,500 |

The above fees are provided for information purposes only and are subject to change from one year to the next.

Multiservice charge

Fee: € 550

The one-off Multiservice fee gives access to the following services: Multimedia and Internet network, Cyberlibris (online library), Student Identity Card, Reprographics credit, Intranet, e-learning modules, Wi-Fi, Career Centre activities and services, International Insurance-Assistance (for any periods spent abroad during the period covered by this contract), University library, University Medical Service etc.

Financing your studies

Click here for information about the cost of studying

 

Admission for international students or French students living outside France:

 

The course is taught entirely in French.

 

1st year

Open to students with a minimum of 3 years post-High School education or international equivalent.

2nd year

Open to students with a minimum of 4 years post-High School education or international equivalent.