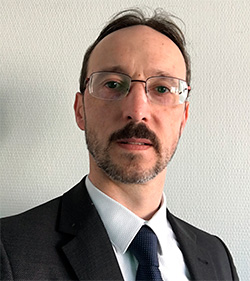 Director of La Rochelle Digital School
Erwan Burel
Companies and business practices are currently being transformed by a digital revolution that includes digital technologies and artificial intelligence. New professions are being created, necessitating new skills and competencies. These future jobs will be available to those who know how to master the digital techniques and tools relevant to their field of work. La Rochelle Digital School is fully committed to this digital revolution and, with this in mind, in January 2019, the School is launching an MSc in Digital Communications and Influence Strategy.
Use your finger to slide
NEW for the 2018/2019 academic year!

 

Objectives

This new MSc programme (the equivalent of 5 years post-High School education) in Digital Communications and Influence Strategy, for which most of the courses are taught online (more than 70 % of teaching time), aims to train students to become communication professionals with a perfect knowledge of business processes, from detailing a communications strategy to developing high impact media:

Operational expertise of tools and techniques for creating high impact visual aids (Adobe Creative Suite, Web development, Agile video production etc.)
Ability to exploit Artificial Intelligence (AI) using IBM Watson applications, available online, in particular ChatBot development (conversational software)
Perfect understanding of the various success factors of influencers (YouTubers and others) and their roles and limitations in corporate communications: current trends such as Community Management and Crowdsourcing

An online study programme: To ensure that this programme is accessible to as many people as possible, and to overcome the obstacles of geographical mobility and availability, the majority of courses (more than 70% of teaching time) will be delivered online, using 3 different methods:

E-learning lessons
Video conferences led by teachers
Online tutorials, ensuring individual guidance for each student

In addition, during the first 10 months of the programme, 3 one-week seminars will be held on the La Rochelle campus.

 

Project based teaching

Pedagogy will focus on the development of a principal project based on the creation and implementation of a communications strategy.

 

Duration

A 16-month programme, broken down as follows:

10 months of course time,
4 months of internship,
2 months to finalise the student's principal project in readiness for defending it at the end of the programme.

 

Content Management

Mastering Photoshop, Indesign etc.
Creating quality photos, images or videos
Adapting writing skills to relevant media
Learning web design with WebMaster HTML5 and CSS3
Mastering WordPress and associated skills
Understanding Experience Design (XD)
Designing a storyboard
Understanding User Interface design
Considering User Experience design (UX)
Using Artificial Intelligence to improve and enhance communications

 

Community Management

Differentiating through the creation of an e-identity
Maintaining and developing e-reputation
Understanding the best practices in buzz marketing and influencer marketing
Managing web performance
Mastering SEO and SEA techniques
Implementing traffic management measures
Analysing Web Analytics metrics

 

Digital Marketing

Analysing user behaviour
Understanding the issues of e-business
Mastering the key factors for success in internet advertising

 

Communications Strategy

Developing a media plan
Mastering public relations
Managing agency service providers
Developing and monitoring budgets

 

The different courses and projects are provided for indicative purposes only and are subject to change from one year to the next. The specialisations offered will only be available if the required minimum number of students is reached.

Project based approach

This course is open to all students who are looking to further their professional project in the field of digital communications. Pedagogy focuses on the development of a principal project, based around the creation and implementation of a communications strategy.

 

A 'Learning by doing' approach

The key to the success of this programme lies in its strong emphasis on putting into practice the skills that have been learnt independently. The role of teachers and tutors will be to guide students in carrying out their practical work within the framework of the principal project they have set themselves.

 

A strong vocational objective

The teaching team is, for the most part, made up of industry professionals. Month by month, through real-life situations and experiences, students will demonstrate their ability to implement the skills they have acquired during the development of their project.

Examples: creation of web pages, visual communications and videos, as well as digital identity development and web popularity. Through continual assessment, students will be evaluated on their achievements, as well as on the arguments they put forward to explain the choices made.

 

At the end of the 16 months, in front of a jury made up of industry professionals, students will defend all work carried out within the framework of their principal project. By the end of the programme, students will have developed real experience, putting theory into practice, as well as encapsulating their skills in the form of a portfolio… all of which will be a major asset for their employability!

Careers

Graduates of the MSc in Digital Communications and Influence Strategy programme can expect to take up positions in communications agencies as well as in internal communications departments within companies, in both France and abroad. Some examples of job positions:

Digital Communications Manager
Digital Communications Project Manager
Community Manager etc...