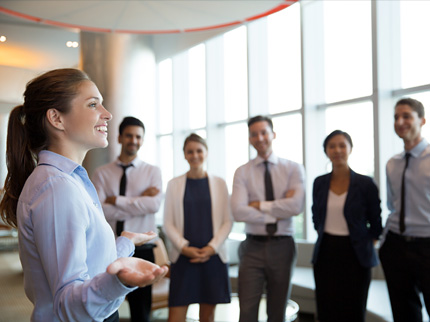 Pedagogy coupled with student support and guidance
Made up of management science researchers, qualified industry professionals and professors from our partner universities, the teaching faculty at Excelia Group offers a practical pedagogy that is perfectly adapted to the needs of its students.
In addition to the teaching provided by leading scientific research professors and lecturers with recognised industry expertise, our Group is committed to guiding its students in their search for the ideal career. Through advanced theoretical courses and practical experiences, both in France and abroad, our pedagogy helps students have a better understanding of themselves and thereby be able to successfully develop their professional and personal project.
"We apply a pedagogy that is both dynamic and progressive… a pedagogy that is constantly reviewed, improved and further developed so as to be as effective as possible, a pedagogy that will boost our students' employability" states Valérie Fernandes, Dean of the Faculty. "To achieve this, we encourage a diversity of learning experiences, from Humacité© projects to the e-learning platform that we have developed, as well as company-based internships and educational games."
Reinforcing its international dimension, 30% of the Group's one hundred or so permanent teaching faculty come from overseas. In addition, the Group also has a temporary teaching staff who are employed for their professional experience, their expertise and their teaching ability. They play an important part in contributing not only to the professional and international dimension of our programmes and courses, but also to the advancement of knowledge and skills of our permanent faculty through the sharing of experiences.
 
The faculty is divided into 8 teaching and research departments all of which are actively involved in developing a variety of pedagogical tools such as course material, case studies, educational games, feedback methods etc. In addition, through these departments our research lecturers are able to disseminate the Group's academic work to the scientific research community (through the publication of research articles in leading academic journals, presenting their work at various national and international conferences etc.) as well as to the corporate world (through research contracts, specialist studies and thematic seminars etc.).