The Financial Times has today published its Customised Executive Education world ranking of bespoke continuing education courses. After entering the ranking in 2022 for the first time in its history, Excelia Business School has moved up 8 places and now features in the TOP 50 worldwide. 
This rise acknowledges both the development and the quality of the continuing education courses offered by the school. 
Among the
TOP 10

French schools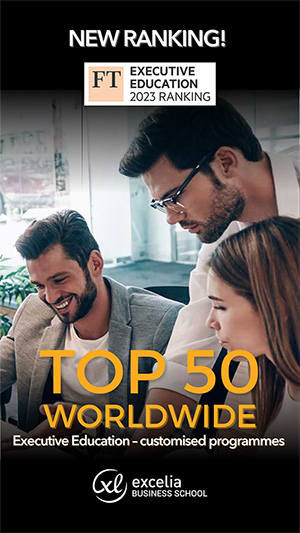 Of the 75 business schools included in this ranking, Excelia Business School features in 10th place among the French institutions listed.
The unique feature of this ranking is that the responses given by corporate clients are of paramount importance, accounting for 80% of the score.
This year, Excelia Business School has risen in all the different criteria used to assess its training courses, particularly in terms of the 'Follow-up' offered post-training (35th place worldwide). 
The director's word
"By entering the Top 50 of the world's best training courses and consolidating their position as 10
th
French school, Excelia's continuing education courses have once again made a name for themselves in the prestigious Financial Times world ranking. This achievement highlights the relevance of Excelia's range of training courses in supporting the major societal changes that all sectors and companies are currently experiencing. The range of courses has been tailored as closely as possible to the needs of companies and the core skills required for their development, enabling Excelia to achieve the highest national and international standards."
Bruno Neil, CEO, Excelia