International Corporate Finance, International Business Management, and the "brand" new Brand Management are the 3 specialised MScs offered by Excelia on a 100% English Track, on its La Rochelle campus, with a fast-track format.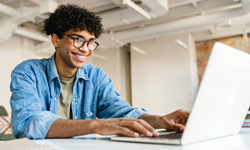 Excelia, ranked among the top 100 business schools by the Financial Times, is further innovating by offering 3 Masters of Sciences (MSc), entirely in English, on its campus in La Rochelle.
With a strong focus on internationalism and multiculturalism, the Business School has designed these fast-track 15-month programmes with the aim of educating students to become specialists with an international outlook. A 100% English Track MSc offers real added value on a CV, facilitating access to the global job market. The short format of the programmes also means that tuition fees are less expensive than for traditional programmes.
Why choose an MSc on a 100% English Track?
These MScs (equivalent to 5 years of post-High School education) educate students to become managers who are experts in their chosen sector. As well as boosting their employability, students develop specific professional skills sought after by companies, whether in Corporate Finance, Business Management or Brand Management. All this with a particular focus on sustainable approaches and innovations that make a difference today for the world of tomorrow.
The programmes offer innovative teaching methods and are vocationally oriented. They are based on an agile approach to business, integrating both specific tools and operational practices, which provide real added value in terms of employability and expertise.
 
3 international Masters of Science
Excelia offers three specialised MScs in English:
MSc in International Corporate Finance: The global financial sector is constantly evolving, and the technological advances, product innovations and climate change issues in the regulatory process are all challenges that financial services professionals will have to address. This programme responds to these challenges, ensuring students have the technical competencies, knowledge of the latest theory and the ability to apply it to solve problems. The programme has a strong focus on Sustainable Development practices, Green Finance and the role of Financial Technology (FinTech), giving students a competitive edge in their careers.
MSc in International Business Management:This programme aims to educate students to become professionals capable of assisting companies in their global projects and the development of their international business operations (Import-Export, Marketing, International Logistics, etc.). Students strengthen their skills in International Strategy and Negotiation, Geopolitical Risk Management, and Sales Operations Management. In addition, there is a strong focus on customs operations. The programme also covers Data Mining, Project Management and Entrepreneurship.
MSc in Brand Management: Starting in 2022, this new cutting-edge programme in Brand Management has been developed in collaboration with professionals from the Brand Industry. This exclusive programme aims to foster excellence in the next generation of brand managers. Students will benefit from specialised brand management content, including the fundamentals of innovation and the brand experience. The aim is to educate students to become future professionals with the qualities sought after for positions centred around Brand Management, such as Product Manager, Brand Manager, Entrepreneur, Consultant, etc.
International students and Faculty
These MSc programmes are aimed at students who have already validated at least three years of post-High school education, as well as managers and employees with significant professional experience. For students who have already experienced expatriation, these programmes are particularly appealing because they offer an education with a veritable international focus, whilst providing an experience in France.
On Excelia's three campuses, out of a total of some 5,000 students, more than 25% are international students representing 80 different nationalities. 54% of the teaching Faculty is made up of international research-active members and industry professional lecturers. Furthermore, each year, Visiting Professors from international partner universities come to teach on Excelia's programmes.
The Faculty members and industry professional lecturers for the MSc programmes are recognised for their strong expertise in their respective specialised fields. Throughout the 15-month programmes, modules are jointly delivered by these research-active Faculty and industry professionals, who are at the forefront of the latest practices and new strategies. The research-active Faculty work with the laboratory "Excelia Lab" to offer innovative teaching methods, while the industry professional lecturers focus on real company issues.
For any questions relating to our programmes or courses, simply get in touch with the dedicated contact person in your region